Our Logo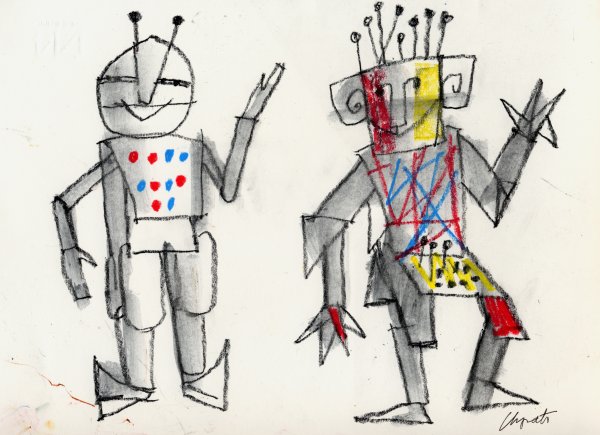 The School of Robotics's logo was drawn by Emanuele Luzzati.
Emanuele "Lele" Luzzati (June 3 1921; January 26 2007) was an Italian painter, production designer, illustrator, film director and animator. He was nominated for Academy Awards for two of his short films, La gazza ladra (The Thieving Magpie) (1965) and Pulcinella (1973).He was born in Genoa and turned to drawing in 1938 when his academic studies were interrupted by Italian racial laws. He moved in Switzerland with his family and studied in Lausanne. He designed his first production of Solomon and the Queen of Sheba in 1944, a collaboration with his friends Alessandro Fersen, Aldo Trionfo and Guido Lopez. He returned in Italy after the war.
His first work as an animator was the short film I paladini di Francia, together with Giulio Giannini, in 1960.He provided the designs for several Glyndebourne opera productions, among them several Mozart productions and Verdi's Macbeth produced by Michael Hadjimischev.
Luzzati was interested in tarot symbolism, which he used in scenographies for Fabrizio de André concerts.He was also admired for his achievements as a book illustrator and for the animated cartoons which he co-authored with Giulio Gianini. The best-known of these were Oscar-nominated shorts to opera overtures by Rossini: La Gazza Ladra (The Thieving Magpie, 1966) and Pulcinella (1974, with music from Il Turco in Italia). In 1978 came Il Flauto Magico, a 55-minute work after Mozart's opera: though it was much admired, its intermediate length made it difficult to programme.
Luzzati first encountered The Magic Flute, a story that came to fascinate him, when designing a Glyndebourne production of the opera in 1963 by Franco Enriquez, the Italian director with whom Luzzati was to work most frequently. In 1971, Luzzati published a children's book on the same tale in a limited Italian edition with coloured lithographs by the author.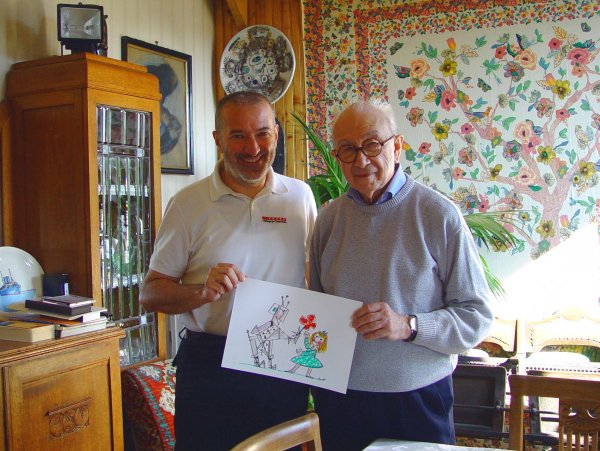 He was born in Genoa of a Jewish father. In the late 1930s when Mussolini's racial laws were being widely enforced, the family moved to Switzerland. There, at the École des Beaux Arts in Lausanne, he studied and obtained a diploma. In 1945 he was present at the rehearsals of Stravinsky's revival in Lausanne of his original production there in 1918 of The Soldier's Tale. Luzzati later maintained that it was this experience which made him decide to become a stage designer.
With two other self-exiled Italians, Alessandro Fersen and Aldo Trionfo, Luzzati had begun experimenting with masks and scenic effects.Back in Italy in 1947, Luzzati and Fersen, as director and author, were given the chance to stage Lea Lebowitz, based on a Hebrew legend, for which Lele created his first fantastical designs. Settling in his native Genoa, he joined with others interested in new theatrical trends to found a theatre named after the actor Eleonora Duse, later to become the city's civic theatre. He designed many dozens of productions in the 1950s for leading Italian companies, and often his bizarre inventions proved more interesting than the acting performances. In 1960, with Trionfo, he founded a theatre group which, as well as giving first breaks to some of the Italian theatre's leading avant-garde artists, presented works by the Absurdists for which Luzzati's grotesque inventions were well suited.
About that same time, he also began his collaboration with Gianini on animated cartoons. Their first film, The Paladins of France (1960), immediately attracted festival invitations and plaudits.After having already designed many decors for his early productions, he joined forces with Enriquez and his two leading actors, Valeria Moriconi and Glauco Mauri, to make up the quartet of the so-named La Compagnia dei Quattro (The Company of Four). The first of many acclaimed, even if sometimes controversial, productions was the Italian premiere of Ionesco's Rhinoceros in 1961.
The company would also tackle contemporary plays, including Tom Stoppard's Rosencrantz and Guildenstern Are Dead. Stoppard so enjoyed the design that he brought some pieces by Luzzati for his art collection. Luzzati had already designed for several Italian opera houses, but he was to win particular critical and public favour at Glyndebourne when he designed The Magic Flute for Enriquez's production conducted by Vittorio Gui.
It was the designer's first experience of Mozart, and clearly he was in his element with the fairytale world of this opera, to which he would dedicate so much of his creative energy and imagination. But the exquisite models and materials he used for that first Glyndebourne production were to remain an inspiration for all his future work. Many years later he would create a Magic Flute park for children at a Ligurian summer resort.Enriquez and Luzzati returned to Glynebourne several more times, in 1965 for Verdi's Macbeth and then for three more Mozarts - Don Giovanni in 1967, Il Seraglio in 1968 and Cosi fan tutte in 1969. He also designed Britten's Midsummer Night's Dream for the English Opera Group and there were commissions among others from the Chicago Opera House, the London Festival Ballet, Scottish Opera, the Vienna Staatsoper and all the leading Italian opera houses.
In a long career that continued into his 80s, in addition to over 400 designs for the stage, the cartoons and the ceramics, he delighted in commissions for items like posters, the interior decoration of transatlantic liners, or even playing cards for a big industrial firm. To visit an exhibition of Luzzati's work, as I remember doing in Rome in 1980 at the Exhibition Palace, was like entering a fairyland park, a sort of refined Disneyland, where you explored magical and mysterious visual territories akin to that of Chagall.